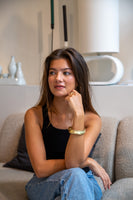 Slingher is Multi functional / Handylish made in Dutch
Slingher was designed from a need to a multi-functional jewelry. 
Slingher is strong by the simple. Slingher is both a hair clip, her accessory and jewelry in one. This classy accessory that can be carried both in the hair and around the wrist and only. Find the endless styling possibilities. 
In addition to our SLINGHER S, M.I., we also have earrings, belts and necklaces you could use as her own.